WELCOME TO THE NYGPL!
We are the oldest pool league dedicated to the LGBTQIA+ community.
Since 1984, the New York Gay Pool League has provided a welcoming environment for NYC area pool players and raised more than $300,000 for local LGBTQ organizations.  Our mission is to build a unique sense of community and friendship between our member bars, players and partners.  Look for upcoming events and tournaments by clicking on "How to Get Involved", click on "NYGPL Recruiting Form" where you can register to receive our league emails, or follow us on social media.  If you still have a question, use the form below and one of our Officers will get back to you.
__________

________________
AS OF MIDSEASON:  

SCORES (78.3 KB)
__________
2022-23 8-BALL SCHEDULE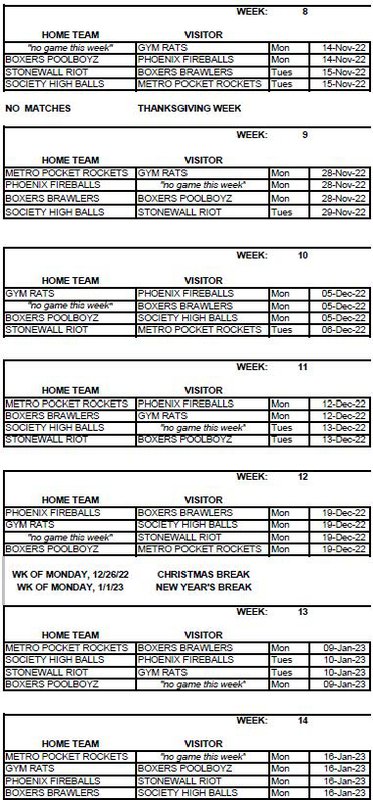 __________
CONGRATULATIONS TO 2021-22 SEASON LEAGUE CHAMPIONS!
8-Ball - Boxer's Briefs
9-Ball - Metropolitan Bar
__________
NYGPL OFFICERS
PRESIDENT, Jason Skipper
VICE PRESIDENT, Glenn Warnecke
TREASURER, Eddie Boyd
SECRETARY, Steve Sibol
_____
LEAGUE FILES
Financial, Rules of Play, & Graphic Design Files (Available to Public)
Board Minutes & Forms (Access Restricted to Team Captains & Executive Board)
Administration & Legal Files (Access Restricted to Executive Board)
Member Bars
Click venue below to highlight on map and see upcoming events
Have a question, comment, or suggestion?
Fill out the form below and one of our officers will get back to you ASAP.
Your message has been sent. Thank you!
Founded in 1984, the New York Gay Pool League is a Not-for-Profit 501(c)(3) Corporation dedicated to raising money for HIV/AIDS charities. The Corporation is formed for the purposes of providing relief to poor, distressed and underprivileged, and indigent persons afflicted by the Human Immunodeficiency Virus (HIV) and/or the Acquired Immunodeficiency Syndrome (AIDS) virus in the New York City area. In furtherance of these charitable purposes, the Corporation shall disperse the funds raised to other organizations which are exempt from federal income tax under Section 501(c)(3) of the Internal Revenue Code of 1986, as it may be amended, and which provide relief, support, and services to the poor, distressed and underprivileged, and indigent HIV/AIDS afflicted community. The Corporation is not formed for and shall not be conducted nor operated for pecuniary or financial gain, and no part of its assets, income or profit shall be distributed to, or inure to, the benefit of any private individual or individuals.